Crane Dance Farm, LLC.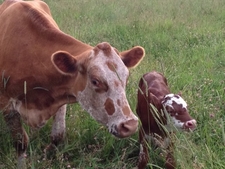 Want farm to table dining?  Here we are: growing 100% grassfed beef and pasture raised pork.  Authenticity you can depend on.  Flavor to savor....
Named for the Sandhill Cranes that make the farm their home each spring, Crane Dance Farm nestles among the rolling hills, woods, and wetlands of Middleville in Barry Country, Michigan ~ a perfect setting for a sustainable, regenerative, pasture-based farm. Providing chemical-free, nutritious, and delicious pork, beef, lamb, poultry, and eggs is our life goal, as we work humanely with our animals and in harmony with our land. 
---
 Holland Farmers Market
We are at the Holland Farmers Market Saturday mornings, May through December.  January through May 2020 the winter market is the 1st and 3rd Saturday mornings from 9 - 1.  Except during Tulip time.....
Fulton Street Farmers Market
We are at the market every Saturday, all year.  You can preorder from our inventory each week for fast and easy pick up at the market.  Winter pick up is 10 a.m. (through April).  May through December pick up time is 8 a.m.  You can also shop directly from our market trailer from 10-1 winter hours and 8 - 1 regular season.
Crane Dance Farm shopping and pick up:
Shop on farm Fridays, 4-6 pm.  No appointment necessary, just come on down to the farm and your favorite farmers will greet you....along with some rambling poultry....
We also have the option of picking up by appointment.  Select "Farm Pick up" for this option.
You can order from our inventory at any time if you want to come to the farm to pickup your order.  Just place your order.  If pickup on Friday from 4-6 does not work,  let us know and we'll arrange a pickup time appointment.
Neighborhood Delivery
We have a neighborhood delivery system.  These locations have a set delivery/pick up date and ordering period.  If you would like us to consider your area, please give us a call!  616.293.1091
Barrington, Illinois:  From time to time we offer delivery service to the hometown of Mary's daughter and family.  We will be there over Christmas 2019 if you would like to order.
Product Availability
To see the products we have available at this moment, simply click on any product categories to the left.  Quantities are limited to what you see.  As orders are placed, the quantities go down instantly.  We update the inventory as new foods become available. 
There is no minimum order size.  You can order anything you see listed.
Naturally, our inventory is changing all the time, and our supply of certain cuts is limited by nature's design of animals.  We need to market all the parts, and everything we sell has healthy and tasty applications.  It's all in knowing what to do with them.  We can help you with that, if you have questions.
Note that many products are priced by weight, so the exact pricing will not be known until we select the actual items that will fulfill your order.  However, the shopping cart will show the approximate total cost for each item.  When the order is placed, you will receive an immediate confirmation email with a copy of your order, including the approximate pricing.
---
We Appreciate Your Business
We work hard to provide healthy, wholesome products to our customers in the region.  You won't find meat products like ours in your local grocery store.  Their meats are from an industrial farming system that abuses the environment, the animals, and ultimately, your health.  Our meats are raised in a way that's evnironmentally sustainable, truly humane, and naturally healthy. 
Please order from us in the knowledge that you are doing the right thing for your family, your region, and our small business.  Let's build a better future together.